Now that most of this year's trade shows are in the rear view mirror there is still a huge reason to build fully customised, impactful displays.
With the Christmas/Summer Season in full swing, it is the perfect time for attention grabbing pop-up displays and brand activations.
We wanted to dedicate some time highlighting some of the most impactful pop-up activations from the past few years.
Our Top 6:
# 6 Adidas creates the D Rose JUMP STORE
Adidas' wanted to promote their newest athlete's basketball shoe, and his message of "earn it" . Shoes were placed on a shelf 10 feet in the air (dunking height) and participants were given a chance to jump up and grab a free pair.  The Adidas athlete Derrick Rose was on hand to connect this activation with the feelings of success that come with owning a pair of these shoes.
#5 Birchbox's – Try Before They Buy
Birchbox redefined the meaning of BYO, inviting consumers to "Build Your Own Box" with the company's array of beauty products. The brand invited consumers to browse a handpicked assortment of makeup, skin care and hair care products for both men and women inside a pop-up shop comprised of two steel shipping containers.
Packed full of free pampering services  to draw in men and women alike, the highlight of the event was still the BYOB (Build Your Own Box) experience. Consumers had the chance to select up to five samples to create their own custom Birchboxes. Varying from an engagingly low price, the $15 women's boxes and $25 men's boxes sold like hot cakes.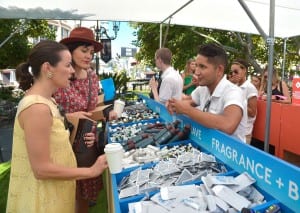 "We're very careful about what we participate in and how we bring the brand to life," says Jamie Garfinkel, senior manager-events and partnerships for Birchbox. "So every project that we do is not very cookie cutter. It's pretty over the top in making sure that we feel like people can really understand our brand. Getting people to understand the business model can be challenging, so pulling together an activation—it has to be super compelling."
Thinking outside THE BOX ultimately paid off for Birchbox. By the end of the tour, the brand racked up more than 730 million media impressions.
# 4 Glade Hits All Your Senses
Home fragrance brand, Glade, opened an impressive pop-up in New York City's Meatpacking District. Experience was prioritised over selling with the storefront space free of any big Glade logo or products for purchase.
Instead, Glade focused on taking customers on a multi-sensory journey. You walk into the space and are greeted with a card that features a barcode. You scan the barcode on a tablet and enter your email. Then you
can either lounge in a sitting area or head to the scent lab to smell and learn about Glade's newest scents. Beyond this point there are five doors each labeled with a different emotion. Walk into the door labeled "Anticipation" and you are in a winter wonderland filled with the smell of pine. Or meander into the door that says "Relax" and you're transported inside a seashell on the beach.
The space was highly memorable, and the non-selling experience was a function of the activation's specific target market. "Millennials don't want to be sold to and if they have a good experience with a brand, they will buy or engage with it down the line" reported Glade's brand team.