We continue to look into one of the best reason's to build a fully customised, impactful display.
With the crucial Summer selling months now here, it is necessary for top brands to grab consumer attention with clever pop-up displays and brand activations.
In this two part series we have highlighted some of the most impactful pop-up activations from the past few years.
Our Top 6:
#3 US Open – Spotlighting Food and Sponsors
The United States Tennis Association (USTA) activated its first-ever US Open Pop-Up Restaurant in New York City's Grand Central Terminal to highlight its food offerings and promote the two-week tennis tournament. The pop-up offered free lunch on a first-come, first-served basis on top of sponsor interactions and giveaways.
Consumers could select two lunch items from US Open celebrity chefs Tony Mantuano and Richard Sandoval. Selections included the US Open's signature lobster roll, Mantuano's tomato bread from Wine Bar (topped with Serrano ham); Sandoval's Maya chopped salad and Hill Country Barbecue's chopped brisket sliders.
In addition to the food, US Open sponsors served up drinks. Lavazza served 12-ounce premium iced coffees and longtime US Open sponsor Evian served its patented bottled waters. Coca-Cola brought its Share A Coke activation to the pop-up, where consumers could create two personalized cans of Coke—one to keep and one to share with friends and family.
WATCH: Inside the US Open Pop-Up Restaurant Experience
Rounding out the experience was a photo activation with the men's replica US Open trophy created by Tiffany & Co. In addition, consumers had the opportunity to win prizes throughout the afternoon and receive an exclusive Ticketmaster discount code to buy US Open tickets—an initiative that was key for the USTA to track consumer engagement.
#2 KLM Royal Dutch Airlines Brings The Netherlands to New York
KLM partnered with Heineken to provide free beer with the brand recording 800 bottles of Heineken consumed over the three day pop-up. Tied to this, a special happy hour giveaway featuring a travel package with round-trip airfare for two from John F. Kennedy Airport in New York to Amsterdam, hotel accommodations and tickets to Sensation. On the gastronomy end, KLM brought its onboard offerings to life with daily waffle happy hours featuring free Dutch coffee and stroopwafels by Eat.Dutch.Waffels.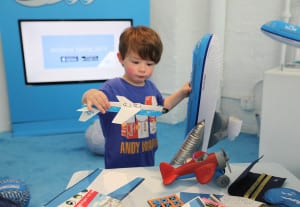 To help amplify the campaign, KLM launched an Instagram contest promoted with a photo activation on-site. By tagging posts with #KLMPOPUP, consumers had the chance to win free branded merchandise. Other giveaways included the "cycle miles contest," where consumers raced for 60 seconds on stationary bikes. Those who went the furthest distance won a pair of economy tickets, while second and third place winners scored air miles.
Completing the experience were showcases of the airliner's business class seats, and a kids area inspired by KLM's unofficial mascot "Bluey" the airplane. The Kiddie Korner featured kid-friendly refreshments and activities like paper airplane making, airplane balloon modeling and face painting.
The KLM pop-up engaged more than 5,000 consumers, and recorded more than 95 million earned media impressions and more than three million social media impressions.
# 1 Lucozade Sport: Wait Training
Members of the working class are famous for griping about not having enough time to do everything they wish they could. This brand activation from Lucozade Sports Drink tackles this complaint, and uses the element of surprise to get people on board. Lucozade created interactive bus stop billboards featuring a live workout coach on a mission to engage bored adults waiting to embark on their daily commute. This was carefully followed up with promotional teams dispensing bottles of the sports drink at the completion of the workout.